Air BnB – Is my coverage a catastrophy or the cream of the crop?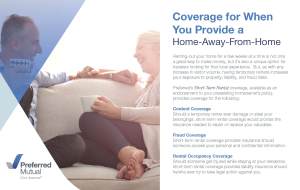 Posted in Coverage Specialty on January 20th, 2015 Comments Off on Air BnB – Is my coverage a catastrophy or the cream of the crop?
Fraleigh and Rakow is consistently updating its arsenal of available coverage's to better reflect the needs of our clients and prospects. We noticed more and more people using airbnb as a way to monetize the unused space in their homes. While this is a great opportunity for each of us, it is also creates huge gaps in coverage on a traditional homeowner policy. It creates liability and property coverage concerns for almost all insurance carriers. Claim time is not the right time to say to your company, "Oh yeah, they we just renting here for the weekend."
It is always best to tell your company up front what is going on. It is also recommended to have a company and agency with the expertise to handle the added risk while keeping your premiums in line so your in home business remains profitable.
Fraleigh and Rakow only chooses to partner with the most innovative carriers in the marketplace, Preferred Mutual is one of those companies. They too saw the need to address the airbnb question head on. They realize that we are going to use our homes as we see fit and that it is better to tailor the correct coverage and have a happy client than to deny a claim and end up in court.
For more information give us a call of refer us to a friend, thanks!
@airbnb @preferredmutual