This week's post is going to be a little different than they normally are but in the spirit of Fair Week here in the Dutchess County we decided to roll with the theme! This year is the 174th Dutchess County Fair but it's a special year for people here in Rinebeck because it's the 100th anniversary of when the fair was moved to its current location in our very own town!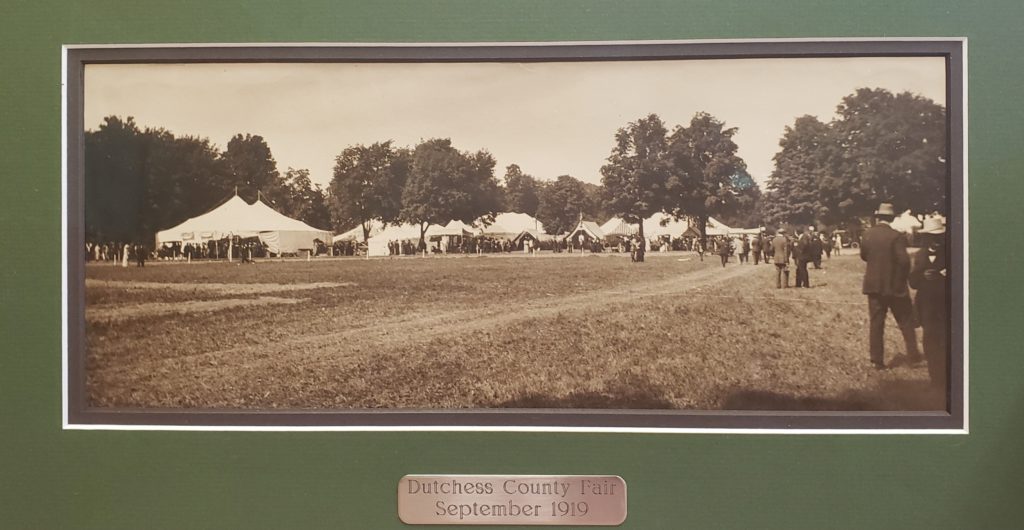 This picture is a picture of the first year that the Dutchess County Fair took place here in Rhinebeck at what's now called The Dutchess County Fairgrounds. The first fair in 1842 was held at Washington Hollow where the NYS Trooper Barracks are today, several more fairs were held there, as well as in Poughkeepsie at what is now Mill Street and Catherine Street.
However come the early 1900's the fair had fallen on some hard times, in 1916 as well as 1918 the fair was actually cancelled alltogether and in 1917 the fairgrounds in Poughkeepsie was being used to mobilize people who were involved in WWI. As you can imagine when 1919 came around there was a lot of confusion and worry about just what the future of the Dutchess County Fair would be.
But that year the directorate of the Dutchess County Agricultural Society was reorganized and they decided to move the fair to Springbrook Park in the town of Rhinebeck and it never left! The Agricultural Society bought Springbrook Park in 1950 and renamed it the Dutchess County Fairgrounds which is how we know it today.
100 years after its move to Rhinebeck the Dutchess County Fair is still going strong, drawing huge crowds, fantastic performers and great food! Check it out this week from August 20-25th!
Happy 100 years!